UNIFIL celebrates contributions of women peacekeepers on International Women's Day
Happy International Women's Day! At UNIFIL, our female military and civilian peacekeepers make important contributions to the cause of peace in south Lebanon, in a variety of ways. Their leadership and expertise make our mission stronger and more effective, each and every day.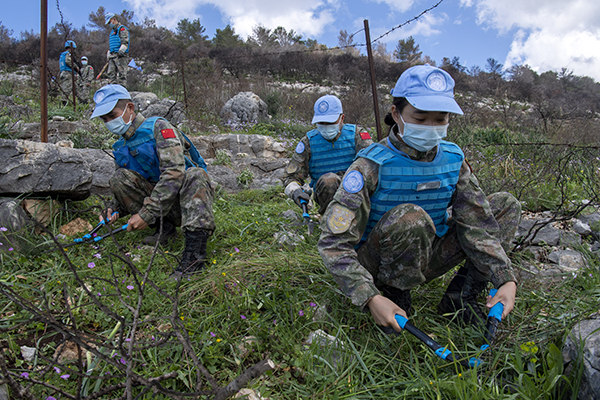 On the Blue Line, Chinese women peacekeepers work on a team helping to maintain our famous blue barrels and the access routes to reach them. This maintenance is essential to helping UNIFIL fulfill its role as custodians of the Blue Line. It ensures the line is visibly marked to avoid any inadvertent crossings, which are violations of United Nations Security Council Resolution 1701.
Nearby, women peacekeepers from UNIFIL's Cambodian contingent scour the terrain to remove mines left behind in past conflicts. These landmines are a potentially deadly threat to peacekeepers to patrol the Blue Line, as well as to civilians and livestock living nearby. Demining work is slow and painstaking, but it is necessary to keep peacekeepers safe and allow UNIFIL to monitor and ensure respect for the Blue Line.
Women peacekeepers in uniform work alongside civilian colleagues to deliver needed support to personnel, such as medical services. At UNIFIL's hospital at its headquarters in Naqoura, medical officers from the Indian and Indonesian contingents work with civilian doctors and nurses to provide needed medical care. Their work has become even more important in the context of the COVID-19 pandemic.
UNIFIL also works with the local community in different ways, and UNIFIL's Civil Affairs section implements Quick-Impact Projects (QIPs) to support the local community. While the COVID-19 pandemic has greatly reduced our ability to meet local communities in person, one of our priorities remains helping to ensure the full, effective, and meaningful participation of women. In the past few months, we've supported several QIPs to empower women economically and support women's entrepreneurship. Recently, UNIFIL helped refurbish a vocational training room, where women learn skills in hair dressing and make-up that they can use to earn income. This project aims to give women more independence and a greater voice in their communities.
Women in Lebanon and around the world have been greatly and disproportionately impacted by the COVID-19 pandemic. UNIFIL's military and civilian peacekeepers have been on the front lines working to protect their peacekeeping colleagues and the local community. Many of the peacekeepers in these critical roles are women. This is one of the ways women play a critical role in the peacebuilding process. Their invaluable contributions to the COVID-19 response from the highest levels of decision-making to frontline service delivery have been extraordinary and will ultimately shape the post-pandemic future.
UNIFIL wishes women in south Lebanon and around the world a happy International Women's Day.