UNMAS Lebanon within UNIFIL seeks to ensure that military units conducting either operational or humanitarian demining do so in line with the Lebanese National Mine Action Standards (NMAS).  UNIFIL demining units are from Cambodia and China.
The key UNMAS task is to ensure that military deminers are first safe, and secondly to ensure that ground cleared is completely cleared of all mines and other explosive hazards, such as unexploded explosive ordnance (UXO).
To achieve this UNMAS works closely with the military demining units, and conducts confirmatory training, assessments of competency (validation/ accreditation) and conducts frequent Quality Assurance (QA) assessments.  QA reports are discussed with demining team commanders and shared with UNIFIL operations branch.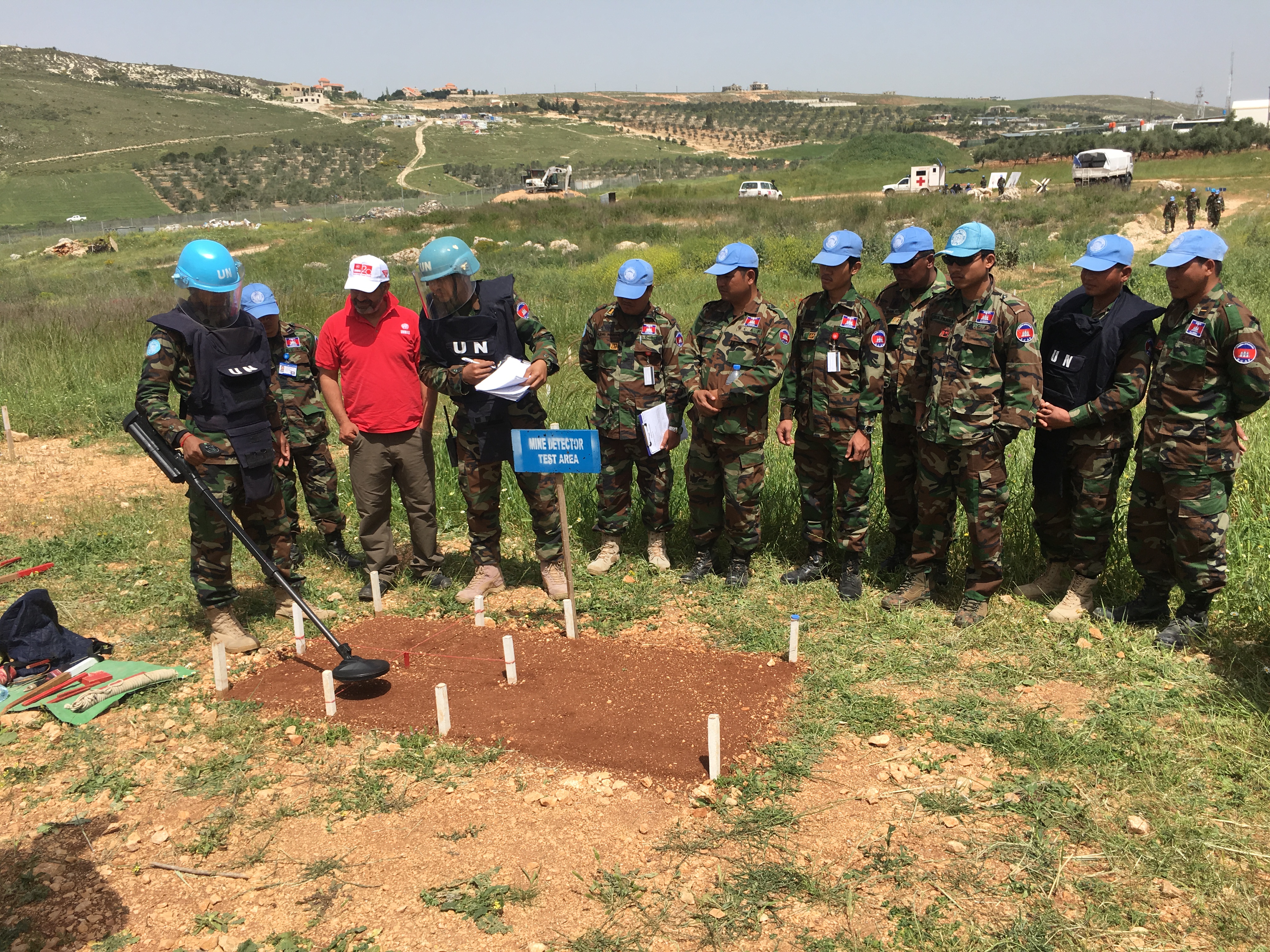 Training on mine detection.
UNMAS are developed and maintained in line with International Mine Action Standards (IMAS) by the Lebanese Mine Action Centre (LMAC), a  Lebanese Armed Forces (LAF) unit, and are applied to all entities conducting demining in Lebanon – whether it's the LAF or an international Non-Governmental Organization (NGO) or a national NGO or other civil society entity.
The LMAC has been the coordination body for demining in Lebanon since 2009. UNMAS works closely with the LMAC to coordinate Explosive Ordnance Risk Education (EORE) within the UNIFIL area of operations (AO).   The LMAC can as observers accompany UNMAS on quality assurance, trainings and assessments.   UNMAS works as a coordination conduit between UNIFIL and the LMAC.
UNMAS also gives EORE trainings to Observer Group Lebanon (OGL) soldiers and other UN agencies operating in the UNIFIL AO.     
Quality assurance (on live minefield).
Within the UNIFIL AO, particularly in proximity to the "Blue Line," mines remain a threat to both local populations and UNIFIL soldiers.   In addition, unexploded ordnances from previous conflicts in the south of Lebanon are frequently found.
UNMAS takes part in LMAC strategy, planning, and technical workshops and meetings. Thus, UNMAS works on areas of mine action response planning outside the AO and across all of Lebanon.   The UNMAS office in UNIFIL also seeks to arrange UN / bilateral Member State funding of the NGO sector.   In its New York headquarters, UNMAS manages a trust fund for assistance in mine action.   
UNMAS support to UNIFIL in a nutshell:
UNMAS Lebanon, while working in partnership with UNIFIL, aims to ensure all mine clearance, Battle Area Clearance and EOD in the most effective, safe and time efficient manner. Its support to UNIFIL are in the following areas:
Working in partnership with LMAC and UNIFIL Combat Engineering Section (J3-CES) in planning, coordination, training and ensuring quality assurance capabilities.
Clearance activities of UNIFIL TCCs within their Area of Operations.
Last updated: 05 March 2020